AdvaMed Women's Executive NEtwork (WEN) Programming and opportunities
---
Thank you for attending The MedTech Conference 2017! The information below is from our 2017 program, but stay tuned as we will be updating it soon for The MedTech Conference 2018 in Philadelphia, PA on September 24-26!
---
Discover ways you can get engaged with WEN at The MedTech Conference powered by AdvaMed in San Jose, CA this fall
---
AdvaMed's Women's Executive Network Reception (open to all registrants)
September 25, 2017 | 5:00 - 5:30 p.m. | San Pedro Market Square
Please join us for an extra 30 minutes of networking leading up to The MedTech Conference's Welcome Reception.
---
CEOs Unplugged: The Future of Leadership in MedTech: Trends of Disruption and Consolidation
September 27, 2017 | 8:15 - 9:00 a.m. | CEOs Unplugged Stage in the Exhibit Hall
This panel will explore emerging trends in the medical technology sector and how leadership will need to change to take advantage of those trends. As new technologies come on the scene, particularly disruptive digital technologies, leaders will need to be even more dynamic and adaptive in their approach. At the same time, the merger and acquisition trend continues to accelerate, often bringing together companies with very different corporate cultures, values and technical expertise. How will current leaders need to change to stay on top of these trends and manage a less traditional workforce? Will these trends create new opportunities for aspiring leaders?
Speakers:
Tracy MacNeal

, President, XimedicaDx, Ximedica

Tina Moen, PharmD, Deputy Chief Health Officer, IBM Watson Health
Erica Rogers, President & CEO, Silk Road Medical
Lisa Suennen, Managing Director, GE Ventures
---
MedTech Meetups
Join us in the MedTech Meetup Zone for a series of sector-focused networking discussions throughout the conference.
Women in Cardiovascular | Monday, September 25 at 3:30 pm - 4:00 pm
Women in Orthopedic/Surgical | Tuesday, September 26 at 10:45 am - 11:15 am
Women in Diagnostics | Tuesday, September 26 at 2:00 pm - 2:30 pm
Women in Digital Health | Wednesday, September 27 at 10:45 am - 11:15 am
---
Get to know notable women in medtech who will be at the conference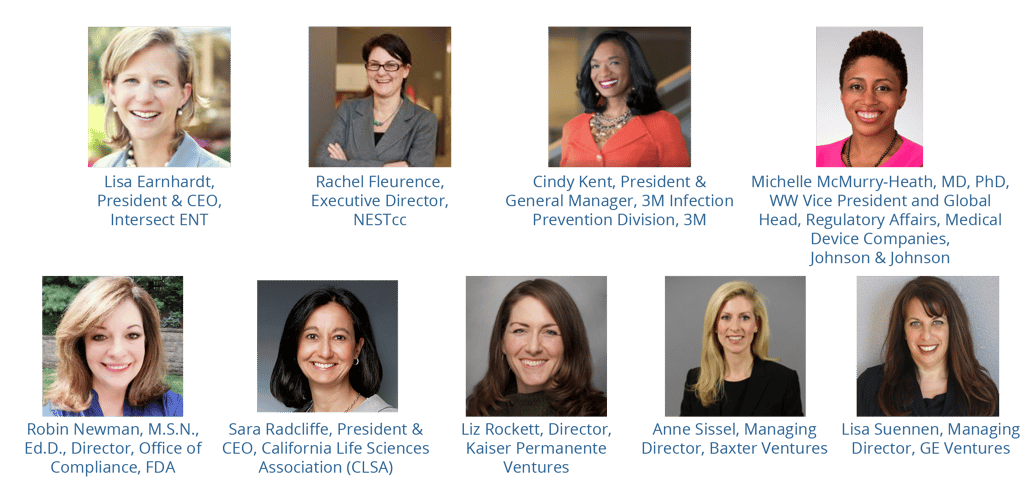 ---
Ready to discover all of the ways you can learn, network, and grow at The MedTech Conference? Check out our interactive online agenda and register today!